Maps, Online and on Paper
Maps for exploring MDI and Acadia. Most are printable, many are available from Chamber businesses and all from the Visitor Center.

Quietside Trail Map
The Chamber prints an up-to-date map of hiking and cycling trails on the Quietside. The map also includes tide tables for Southwest Harbor, the time of sunrise and sunset, and the current phase of the moon.
---
Carriage Road Map

The Chamber also publishes the definitive map of Acadia's carriage roads showing all the intersections and bridges. On the back are elevation profiles for each road that you can use to gauge the difficulty of a route. The map is available from the Chamber office and Chamber businesses.
---
Quietside Roadmap
Highlighting the cultural institutions on the Quietside of MDI, the Quietside Roadmap is a convenient resource for finding things to do and places to eat, shop and stay. Pick one up at most museums and visitor centers.
---
Official Park Service Map

The "official" map of Acadia, published by the Park Service, gives a good overview of the park. It is fine for driving, but for hiking or cycling it is better to use a more detailed map like the Quietside Trail Map, the Carriage Road Map, or a specialized guidebook.
---
MDI Business Locator Map

Widely used and distributed around the island, the Business Locator puts a good road map of MDI in a compact form. It shows the location of many island businesses.
---
Stargazing on MDI

As there are no major cities on the downeast coast of Maine, MDI is a great place for observing the night sky. The Quietside turns out also to be the
dark
side. Two College of the Atlantic students, Nicholas Bacon and Apoorv Ghelot, working with the Astronomy Institute of Maine and COA's GIS Lab, created this map showing the amount of ambient light at night.
---
Map of Southwest Harbor

A printable street map for downtown Southwest Harbor.
---
Great Cranberry Island

A printable map of Great Cranberry Island
---
Little Cranberry Island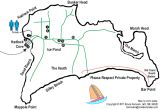 A printable map of Little Cranberry Island
---
Maps of nearby places

Frenchboro and Long Island
Get it!
Isle au Haut
Get it!
Schoodic Peninsula
Get it!
Swan's Island
Get it!
---
Related page: Guides, Online and on Paper