New! Get Maps & Guides from our online store
The Visitor Center is open 9AM to 5PM Monday through Friday. If you plan to visit, please wear your face covering and practice social distancing. We have Individual Weekly, Vehicle Weekly and Acadia Annual Park Passes available.
Quilt N Fabric Presents: Maine's Shop Hop


---

Camp Capella Presents: Star Hour


---

Southwest Harbor Public Library Presents: Malaga Island with Kate McBrien, Maine State Archivist


---

Camp Capella Presents: Star Hour


---

ArtWaves Presents: Modern for Young Dancers


Island Arts Association Presents: August Southwest Harbor Craft Fair CANCELED


---

Fogtown Brewing Presents: Gus La Casse and Mathias Kamin


---

Coastal Fine Art Alliance of Maine's Annual Gallery on the Green CANCELED


---

Fogtown Brewing Presents: Gentle Temper


Sleep and Alzheimer's  disease


---

Acadia Gateway Center receives $9 million


---

Bar Harbor Bank & Trust employees donate


---

New boats and old make their marks in Eggemoggin Reach Regatta


---

Islander students


Acadia National Park Announces Vehicle Reservations for the Sand Beach Entrance and Cadillac Summit Road


---

Healthy Acadia Presents New Programs That Will Explore Nature-Based Restorative Practices


---

Fund to Help Those in Recovery Stay Connected


---

Welcome to our new Chamber Member Great Cranberry Island Historical Society!


---

Welcome to New Chamber Member - A Climate to Thrive

The Quietside of Acadia
Mountains rising from the ocean, forests stretching to granite cliffs, lakes nestled in glacial valleys, crashing surf on a rocky shoreline. It is little wonder that nearly three million people come each year to Mt Desert Island (often just called "MDI") to enjoy Acadia National Park. So, how can an island that hosts millions of people have a quiet side?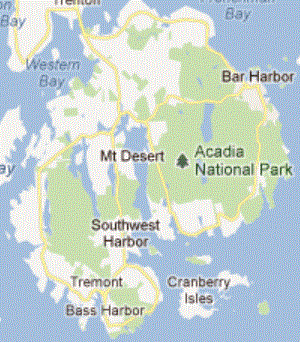 MDI is roughly circular with a fjord, Somes Sound, through its center that nearly cuts it in two. Acadia covers just over half of MDI, about a third of the park is west of the sound.
Most tourists to the island head to Bar Harbor on the northeast coast, which is home to several large hotels and is a popular stop for cruise ships. Tremont and Southwest Harbor are the principal towns on the west side of MDI. First settled by fishermen, the towns retain their maritime heritage boasting healthy fishing fleets and myriad boat yards.
Although less traveled than the east side, the Quietside of Acadia offers plenty of services for visitors, as this website shows. We invite you to browse the site to learn about Acadia National Park and our community. Or better still, come for a visit and enjoy Acadia away from the crowds.