Visitor Center is open Daily 9AM to 5PM EST. Weekly Individual & Vehicle Park Passes and ANP Annual Passes are available during office hours.
---

8th Annual Acadia Night Sky Festival


---

SWH Library Presents: "Acadia Night Sky Festival"


---

Fee-Free Day in Acadia National Park


---

SWH Library Presents: "AMC's Best Day Hikes Along the Maine Coast" by Carey Kish


---

Ceremony to Place Lighthouse Keeper Gravesite Markers


Coda Presents: Frogpipe


---

The Village Green Arts Association Presents: Pardon Me, Doug - A Tribute To Phish


---

The Barn Arts Collective Presents: The Gene Lottery (R)


---

The Barn Arts Collective Presents: The Joshua Complex (PG-13)


---

Sips Presents: Honey Don't


Luders series


---

Genes essential for life identified


---

Nemo's lawsuit returned to federal district court


---

Clark Bridge work


---

Recall ordinance gets no traction


Healthy Acadia Presents: Taking Action For Health: FREE workshops offered


---

Wilderness First Responder Certification Course at Camp Beech Cliff


---

A Special Announcement from Hinckley


---

The Wendell Gilley Museum: Join us for A Flight of Swallows


---

4th Annual Harbor House Tennis Classic


Drums, chorus, speeches celebrate Acadia 100


---

Autumn leaves and the Acadia Centennial make September brilliant


---

Acadia Centennial Section at www.mdislander.com


---

Acadia: A gift to the people, by the people


---

How growing tourism could change Acadia over the next 100 years

The Quietside of Acadia
Mountains rising from the ocean, forests stretching to granite cliffs, lakes nestled in glacial valleys, crashing surf on a rocky shoreline. It is little wonder that nearly three million people come each year to Mt Desert Island (often just called "MDI") to enjoy Acadia National Park. So, how can an island that hosts millions of people have a quiet side?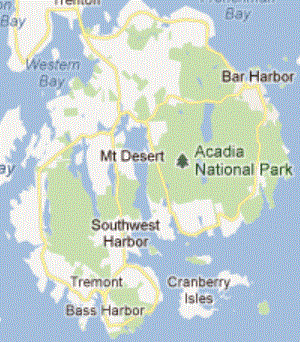 MDI is roughly circular with a fjord, Somes Sound, through its center that nearly cuts it in two. Acadia covers just over half of MDI, about a third of the park is west of the Sound.
Most tourists to the island head to Bar Harbor on the northeast coast, which is home to several large hotels and is a popular port for cruise ships. Tremont and Southwest Harbor are the principal towns on the west side of MDI. First settled by fishermen, the towns retain their maritime heritage boasting healthy fishing fleets and myriad boat yards.
Although less traveled than the east side, the Quietside of Acadia offers plenty of services for visitors, as this website shows. We invite you to browse the site to learn about Acadia National Park and our community. Or better still, come for a visit and enjoy a classic Maine island vacation.