The Visitor Center is closed for the winter. You can contact us at 207-244-9264 or office@acadiachamber.com.
Southwest Harbor Public Library Presents: January Tea


---

ArtWaves Presents: Featured Weekend Workshop- Bottle Cap Bling Earrings & Things


---

Backside Book and Cookie Swap


---

ArtWaves Presents: Mosaic Monet


---

Southwest Harbor Public Library Presents: Southwest Harbor Drama Club


Coda Presents: Songwriter Showcase


---

Sips Presents: Community Jam with Brian Kupiec


---

Sips Presents: Wednesday Night Music with Bud Williams


---

Sips Presents: Wednesday Night Music with Bill Shaw


---

Coda Presents: Fogtown Brewing with Banned From Eden


Acadia open, but staffing limited by shutdown


---

Deal offered in zoning lawsuit


---

New Acadia visitor record


---

Boat on road causes issues


---

Tax-acquired property


Bar Harbor Bank & Trust Employees Make "Community Commitment" Donation


---

Application open for 2018 Artist-in-Residence Program hosted at Acadia National Park


---




---

Bar Harbor Bank & Trust's Michelle Curtis is now Treasury Service Sales Officer


---

Welcome to new Chamber Member, Sea Princess Cruises!

The Quietside of Acadia
Mountains rising from the ocean, forests stretching to granite cliffs, lakes nestled in glacial valleys, crashing surf on a rocky shoreline. It is little wonder that nearly three million people come each year to Mt Desert Island (often just called "MDI") to enjoy Acadia National Park. So, how can an island that hosts millions of people have a quiet side?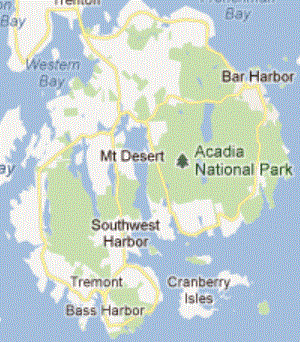 MDI is roughly circular with a fjord, Somes Sound, through its center that nearly cuts it in two. Acadia covers just over half of MDI, about a third of the park is west of the Sound.
Most tourists to the island head to Bar Harbor on the northeast coast, which is home to several large hotels and is a popular port for cruise ships. Tremont and Southwest Harbor are the principal towns on the west side of MDI. First settled by fishermen, the towns retain their maritime heritage boasting healthy fishing fleets and myriad boat yards.
Although less traveled than the east side, the Quietside of Acadia offers plenty of services for visitors, as this website shows. We invite you to browse the site to learn about Acadia National Park and our community. Or better still, come for a visit and enjoy a classic Maine island vacation.