Visitor Center open Monday - Friday 9-5
Road Construction Hotline: 207-244-7917
Hancock County Court April 6-17


---

Judge overrules town, orders substation regs vote


---

Buildings burn to improve safety


---

Divorces


---

MDIBL international partnership announced


Acadia Announces Centennial Challenge Projects- NPS Matches Friends of Acadia Funds for Historic Trails and Carriage Road Work


---

Tourism to Acadia National Park creates $271 Million in Economic Benefits


---

Celebrate National Junior Ranger Day in Acadia


---

Acadia National Park Prepares for Summer Season


---

Jordan Cliffs Trail closed


SWH Library Presents: Creativity Talk with Philip Steel


---

Garden Class


---

Harbor House Presents Touch A Truck


---

Southwest Harbor Artisans Grand Re-Opening - Meet the Artists!


---

Seal Cove Auto Museum Presents: MOTHER'S DAY AT THE WOODLAWN MUSEUM


Southwest Harbor Artisans - Celebrating our Move!


---

Park Loop Road opens for season and carriage roads close for spring thaw


---

Welcome to New Member, Island Arts Association!


---

Welcome to New Chamber Member - The Rock Church - Acadia!


---

It's April and that means it's Shop Hop Time!

The Quietside of Acadia
Mountains rising from the ocean, forests stretching to granite cliffs, lakes nestled in glacial valleys, crashing surf on a rocky shoreline. It is little wonder that nearly three million people come each year to Mt Desert Island (often just called "MDI") to enjoy Acadia National Park. So, how can an island that hosts millions of people have a quiet side?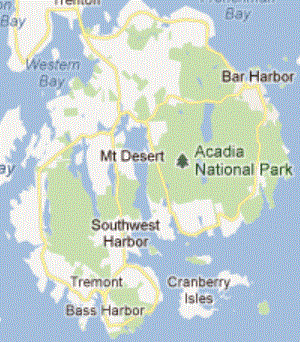 MDI is roughly circular with a fjord, Somes Sound, through its center that nearly cuts it in two. Acadia covers just over half of MDI, about a third of the park is west of the Sound.
Most tourists to the island head to Bar Harbor on the northeast coast, which is home to several large hotels and is a popular port for cruise ships. Tremont and Southwest Harbor are the principal towns on the west side of MDI. First settled by fishermen, the towns retain their maritime heritage boasting healthy fishing fleets and myriad boat yards.
Although less traveled than the east side, the Quietside of Acadia offers plenty of services for visitors, as this website shows. We invite you to browse the site to learn about Acadia National Park and our community. Or better still, come for a visit and enjoy a classic Maine island vacation.