The Visitor Center is closed for the winter.
Coda Presents: History Happy Hour Trivia Night


---

Camp Capella's Polar Dip


---

SWH Library Presents: "Celebrating MDI Hospital: A history of caring. A community of healing. A legacy of giving."


---

Seal Cove Auto Museum Presents: 3rd Annual Brass Club Speakeasy


---

Coda Presents: Film Night: Meet John Dee


Sips Presents: Jim McDermott


---

Sips Presents: Humphrey Go Cart


---

Coda Presents: Blake Rosso Band


---

Coda Presents: Cold Weather Comapmy with Gus LaCasse


---

Coda Presents: Cabaret at Coda with Barn Arts Collective


In pictures this week


---

Civility workshop set


---

Acadia projects are on schedule


---

Filmmaker to discuss Bridges


---

Shea wins school bid


Taking Action For Health: FREE workshops offered


---

Healthy Acadia to Offer Recovery Coach Training


---

Welcome to New Chamber Member, Camp Capella, Inc.!


---

Healthy Acadia is going strong


---

Healthy Acadia Presents: Taking Action For Health: FREE workshops offered

The Quietside of Acadia
Mountains rising from the ocean, forests stretching to granite cliffs, lakes nestled in glacial valleys, crashing surf on a rocky shoreline. It is little wonder that nearly three million people come each year to Mt Desert Island (often just called "MDI") to enjoy Acadia National Park. So, how can an island that hosts millions of people have a quiet side?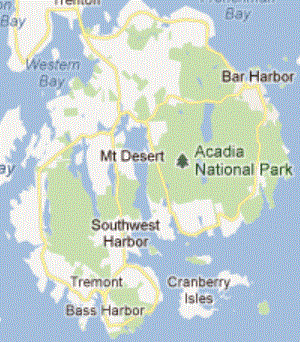 MDI is roughly circular with a fjord, Somes Sound, through its center that nearly cuts it in two. Acadia covers just over half of MDI, about a third of the park is west of the Sound.
Most tourists to the island head to Bar Harbor on the northeast coast, which is home to several large hotels and is a popular port for cruise ships. Tremont and Southwest Harbor are the principal towns on the west side of MDI. First settled by fishermen, the towns retain their maritime heritage boasting healthy fishing fleets and myriad boat yards.
Although less traveled than the east side, the Quietside of Acadia offers plenty of services for visitors, as this website shows. We invite you to browse the site to learn about Acadia National Park and our community. Or better still, come for a visit and enjoy a classic Maine island vacation.